Stunnel is a multiplatform SSL tunneling proxy, that allows you to use an SSL encrypted connection, even if the programm you are using has no built-in SSL support.
It's also usefull, if the built-in SSL-engine takes too much CPU time.
Setting up Stunnel is quite simple. Just install the program, edit the configuration file, set up the program you want to use with Stunnel and run it.
If you don't want to edit the config file by yourself, you can use my config file generator, located here.
To setup Stunnel for usenet use, edit the configuration file like on the following screenshot: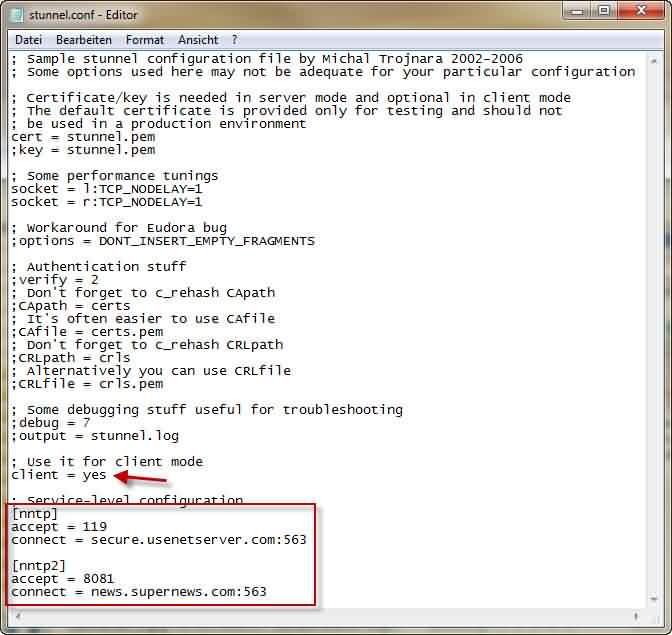 Set "client" to yes, and under "Service-level configuration" enter the ports and server adresses.
The point "accept" is the local port, stunnels listens on, you don't necessarily need to use port 119 here. Any free port on your computer will do.
At "connect" enter the server-adress and port of your usenet-provider. In this example we are connection to secure.usenetserver.com on port 563 and to news.supernews.com also on port 563.
Of cource you have to enter the servernames provided by your provider here.
To make a program, for example Newsleecher, connect to your Stunnel SSL proxy, just enter 127.0.0.1 as serveradress and the coresponding port.
In our example it should look like this: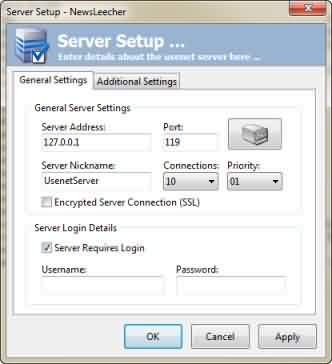 You don't need to check "Encrypted Server Connection" because Stunnel is doing the encryption for you.
Of course you still need to enter your username and password into the corresponding fields, and you are ready to go!
Stunnel can be downloaded for free at the Author's website

.